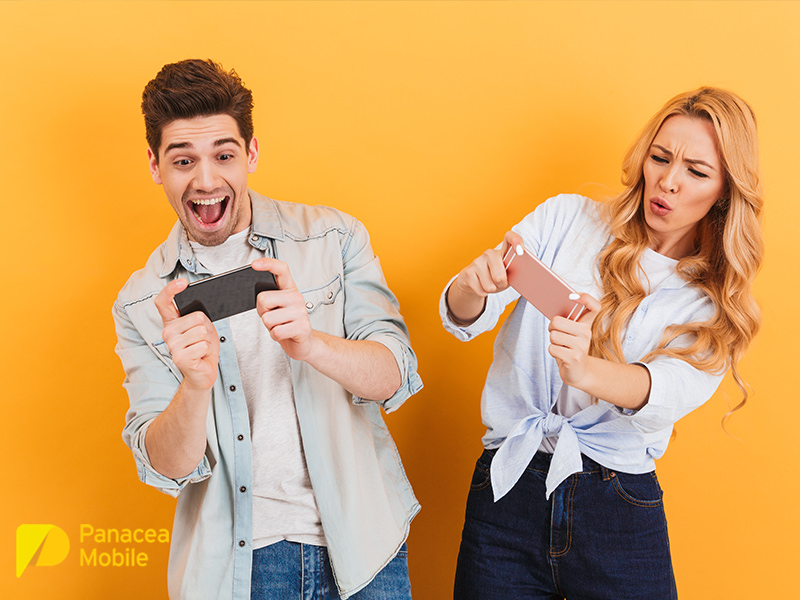 16 Aug

Building Your Own Competition Campaign Is Easy With USSD

The South African smartphone market is booming, second only to Nigeria when it comes to year-on-year growth on the African continent. But South Africa also has the most expensive data prices of all African countries. This means many consumers are not always able to take full advantage of all their smartphone's capabilities. As a result, "old school" mobile messaging and promotional campaigns – such as SMS and USSD-driven competitions – enjoy huge uptake from millions of South Africans with limited 3G connectivity or access to WiFi. USSD makes it possible to put your business at the very fingertips of your customers, and building your own USSD campaign has never been easier. In fact, you can do it directly from your Panacea Mobile Dashboard, creating full competition portals with entry pages, competition information, terms and conditions, and more.

Did you know over 75% of consumers respond positively to brands that use text messaging and other mobile marketing methods as part of their competition campaigns? So, if you want to run a competition, USSD codes are a quick and easy way for your customers to enter – no getting online or filling in cumbersome entry forms. Instead, using a single SMS, codes can easily be generated for people to use to send their entry. (A USSD session begins when a user makes a phone call to a USSD string (e.g.*120*517#) on their mobile phone).

So how do you ensure you take full advantage of this versatile platform and get the maximum value from your campaign?
Benefits Of USSD-Driven Competitions
There are almost too many advantages to mention, but there are some benefits which really help push USSD to the top of the pile when it comes to maximising consumer reach and simplifying the mechanics of your competition entry:
Available to all customers, regardless of the type of phone they have.
Already well-understood by most South Africans as they use the same platform for "Please Call Me" and "Air-time Purchase" options.
At 20c for 20 seconds, it's much cheaper than making a phone call or sending an SMS, making it highly cost-effective to implement and run.
No limit to how many consumers can interact with the campaign at the same time.
Customers are never put on hold, and the service is always available.
Because it's not SIM- or mobile-based, it only needs a connection to the GSM network.
Up to seven times faster than SMS
Completely customisable to your business' needs.
Types Of USSD Campaign
There are two main types of USSD campaigns – Standard and Proxy.
Standard USSD Campaign
A Standard USSD campaign is one in which all the pages that make up the campaign are defined at the time that it's configured. Users simply initiate a once-off request, after which they receive multiple service options from a menu-based application. The system then validates all the responses from entrants and sends the appropriate response to those entrants. A standard USSD response costs just 20c per 20 seconds.
Proxy Campaign
This type of USSD campaign involves forwarding user responses to a designated URL. Validation, along with any required responses, is carried out by the service provider. When using Panacea, for example, once a user dials your USSD string, we call your server for a plain text display and then send back a response to that user.
When setting up a new USSD campaign from your Panacea Mobile Account Dashboard, simply select "Proxy Campaign" from the "Campaign Type" drop-down menu on the "New Campaign" model window. This reveals a new text field where you can paste the URL to be called at the start of every new USSD session.
Other Uses Of USSD
While USSD is undoubtedly a fantastic platform for competition entries, it can also be used for other campaigns too.
Customer Feedback
Have you ever completed a call with a company's customer service representative, only to receive an SMS a few minutes later asking you for your feedback on the service you received? This is a USSD campaign in action. You could be asked to rate service levels via a drop-down menu giving numerical values (1 means terrible, 10 means outstanding, for example). Or you could be asked a question, such as how likely you'd be to recommend them to your friends and family.
Special Offers
Special offers, vouchers and coupons are popular ways for businesses to use USSD to entice customers. Retail outlets, for example, often offer discount coupons to shoppers if they send a specific pin code within a certain amount of time. Many restaurants offer free wifi vouchers to patrons, redeemed using a USSD code that then gives you a limited-time pin.
Panacea Mobile connects directly to all major networks in South Africa, Namibia, Botswana and Swaziland, as well as trusted partners worldwide. Find out more about our USSD packages here and here, then contact us so we can chat about how we can find the one that's best for you.