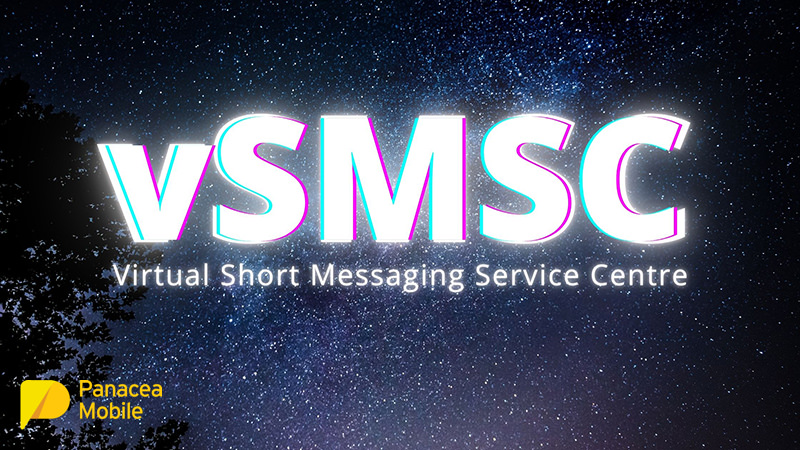 07 Jun

Why Should I Learn More About a vSMSC Platform?

They're accessible on pretty much every mobile device in the world. They enjoy one of the highest response rates of any communication. They're really, really cheap to send and receive. They can take several user-friendly forms.

What are we talking about?

Of course, it's the ubiquitous SMS!

SMS communication is still an exceptionally busy space, especially here in Africa where not everyone has a smartphone and few people have permanent access to the internet. That makes a Virtual Short Messaging Service Centre (vSMSC) a treasure trove for businesses or small telecommunications operators.

What should you know about this clever platform, and how can this knowledge benefit your business?
What is a vSMSC Platform?
Panacea's vSMSC platform is a central hub with the ability to send and receive millions of SMS messages globally. This least-cost routing solution is put to good use by financial service providers and other communication-intensive enterprises across the world providing secure, instant, and reliable bulk messaging services.
The beauty of a vSMSC platform, however, lies in the often overlooked features that take it from a simple messaging service into the realms of an enviable customer management and marketing system. These include:
High-speed batch processing
Least cost routing
Priority routing
Queue monitoring
Bespoke report builder
User audit logs
Smart billing management
E-commerce
Global currency management
If you're in any doubt about the capacity of a vSMSC solution, rest assured that it can process over 1000 messages per second and manage routing, billing, and reporting for over 50 million messages every day.
Practical Features of a vSMSC
It's clear what vSMSC has under the bonnet, but how can it help your business? What advantages can it offer to your own customers as a uniquely beneficial bolt-on to your existing services?
Let's unpack these a little further:
Send and receive SMS messages on a phone or a computer over the internet without being tied to a single physical phone
Send single, personalised messages or thousands of SMS messages at a time
Enjoy immediate two-way communication with anyone, anywhere in the world
Schedule time-sensitive appointment reminders, alerts, updates and confirmations
Manage, filter and prioritise messages easily
Share messages quickly with team members on your own secure platform
The most urgent messages can be prioritized over bulk message queues in your system
Configure routing profiles so that least-cost networks are automatically selected providing ongoing cost-savings
Direct and secure business-to-customer messaging
Accounts are easily managed on a bespoke dashboard monitoring user activity, message queuing, pricing and much more
Network, country and currency agnostic solution
There are so many more benefits to partnering with a professional vSMSC provider which you will discover when once you've chatted with the Panacea team.
Getting Started with a Virtual Phone Number
Getting started with a virtual phone number is incredibly simple with the right telecoms partner.
Choose between a unique toll-free number, an area-specific number, or a dedicated shortcode depending on your business needs.
Link to the Panacea SMSC platform
Draft your text or multimedia messages
Hit send
Manage replies directly from your inbox with a simple user-friendly interface
Keep your customers happy and grow your business
What's not to love?
Why Choose a Third-Party SMSC?
You're likely asking, why can't I simply sign up as an SMSC and reap the rewards for my own business? That's an excellent question – and while you're at it, you may consider reinventing the wheel.
In reality, setting up a whole new business arm can get costly. This is a major factor for new or smaller telecommunications operators and small businesses that need to manage their initial capital outlay. That's why so many smart businesses make use of third-party SMSC platforms where they are only charged on actual SMS traffic. This white label approach allows you to generate revenue minus the initial investment – which sounds like a win in today's challenging economic landscape.
Get Panacea's vSMSC Platform
Not only is vSMSC a cost-effective marketing and communication tool, but it comes with everything a growing company needs to manage their customer information for the very best results. From advanced reporting tools to secure access control, we've got what you need to make your business work.
Need to know more? Discover the technical specifications of Panacea's vSMSC solution and then give us a call.